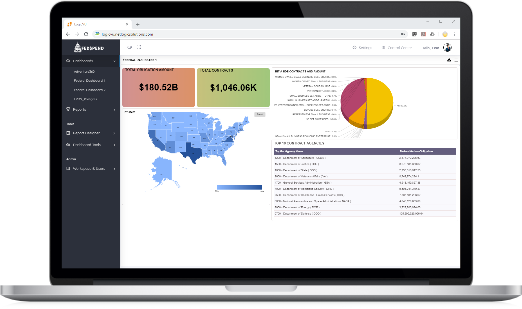 LogicVU is Netlogic's proprietary solution for our customer's business intelligence needs. LogicVU integrates your data with predictive models, machine learning, and deep-learning. See your data in new ways with advanced visualizations, analytics, and reports.
LogicVU provides affordable, accessible, enterprise-level data reporting to non-IT users. We offer our customers system-of-record reporting using a centralized BI provisioning model. Our data discovery solutions fulfill the spectrum of BI and analytic requirements.
Provides for robust predictive analytics

Next generation visualization

Large volume data processing
Deep learning and artificial intelligence

Cloud or on-premise installation
Cost effective when compared to our competition

Mobile BI: device-agnostic platform enables LogicVU on desktops, tablets, phones

Ability to Handle Large Volumes of Data

Predictive Analytics, Machine Learning and Deep Learning Integration
No need for expensive developer licenses

Drill to raw data built into every cell

Interactive executive dashboards

Depth and Breadth in Business Intelligence
Netlogic creates and enhances enterprise business intelligence systems with robust analytical reports and dashboards.
Netlogic personnel know BI design and development. We have the expertise to design and develop complex, enterprise-level BI reporting systems. , queries, reports, and dashboards utilizing advanced functionality within the BI environment.
Our developers understand multiple database platforms, integral to the data environment. Our analysts and developers have a solid understanding of the core elements and logic behind BI. Teams work with attention to detail. We prepare for the full life-cycle of many, concurrent business intelligence initiatives. We focus on efficient and effective information delivery, data analytics, and data visualization.
Netlogic's team members document and validate user reporting requirements, applying all phases of data analysis. We work with you to document your BI data reporting needs and requirements.
Your Business Intelligence Partner
Create frameworks that deliver accurate information quickly

Analyze, design, migrate, build reports, and assist with implementing the BI solution

Recommend and implement application and BI standards for continuity

Provide training and ongoing mentoring on the best BI practices

Review incoming projects to determine if BI technologies are the right solution for customer and stakeholder needs

Guide the development staff towards fully utilizing BI technologies